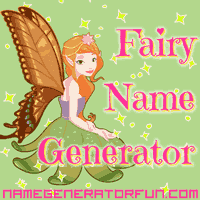 She likes to steal shiny coins and pretty trinkets.
She lives in reed marshes and lonely fenland.
She can only be seen when the bees swarm and the crickets chirrup.
She wears pale pink marshmallow flowers and has bright lemon coloured wings like a cicada.
Get your own fairy name from the fairy name generator!
Sorry, I just couldn't resist. My friends and I have been having fun with this little name generator and for whatever reason it seems to be nailing our personalities every time. very weird :)